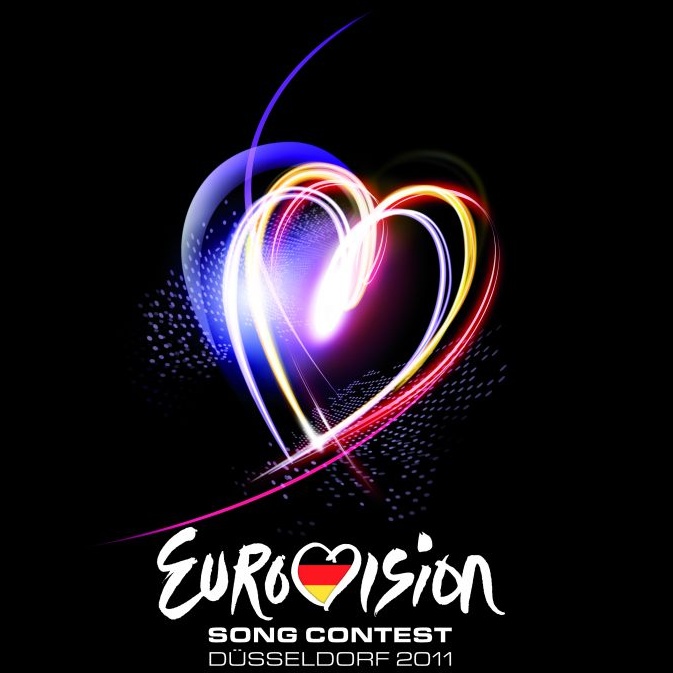 So once again just a week and a half ago we came face to face with the splendiferous wonder that is Eurovision. It was the 50th anniversary this year and it came to us from Dusseldorf, Germany. It wasn't a bad show. I thought they did alright with the hosts as well. Usually I find the hosts rather annoying but Germany seems to have got that right.
Being in Australia I was forced to wait until Friday night to see the first of the Semi finals. Saturday was Semi-Final 2 and Sunday night was the Final. Delayed telecast can be annoying when you already know who has won but it doesn't take the fun out of watching the show.
Portugal
definitely won the prize for the most bizarre performance with their entry being something of a protest song. I'm not sure what exactly it was a protest of however, I was too distracted by the placards/signs they were holding up and waving around. Not to mention the outfits. Portugal seems to be running with the bizarre, strange entries in recent years.
The most retro vote must without a doubt go to
Serbia
, who with their quirky performance remniscent of Austin Powers crossed with a bit of Scooby Doo style wise. I couldn't understand the words to the song but it was fun and I enjoyed it.
Moldova
put on a fantastic performance with a bit of quirk themselves. It felt like they were channeling
Beastie Boys
crossed with
The Cat Empire
. The unicyclist just added a bit more entertainment to the whole thing which was already fantastically entertaining. I guess the best description I can come up with for this performance is a circus sideshow of fun!
Personally I thought
Finland's entry by Paradise Oskar
was fantastic, but maybe as one person put it in a comment on Facebook- too good for Eurovision. I listen to the song now and get goosebumps... and they aren't because it is cold. His voice and just the song as a whole remind me of the Bee Gees.
Hungary
only amused me because it seemed the singer- Kati Wolf- is a cross between
Rhonda Burchmore
and
Celine Dion.
Ireland's
Jedward produced a fun and enjoyable act that seemed to me to be a cross between Lady Gaga and the Scissor Sisters but so much more fun.
Iceland
had a fantastic song with Sjonni's Friends. To have come together after the guy who was going to sing the song passed away and his wife got together several of his musician friends and they performed the song in his memory. It was fantastic. There was talent and feeling and knowing the
story
behind how they came to be performing added more to the whole performance for me.
Both
Russia
and
Estonia
seemed to face issues in the performance of backflips. In both of these performances in the semi finals it looked like faceplants were imminent as they backflipped off platforms. Not exactly a sign of the most polished performance. Though I guess performing in something that will be televised and seen by over 120 million people might put the nerves in you. As it was neither the Russian nor the Estonian performances left me too impressed overall. The greatest thing that Estonia had going for them were the bright costumes, break dancing and an annoyingly catchy tune that had me singing along despite my less than favourable opinion of the performance itself.
Belgium
did a fantastic performance with what was basically an acapella group and a beat boxer. I love performances like this where we can see truly what is possible with the human voice. Sure I love my drums, guitars and hard rock but there is something so awesome about hearing the music created through the use of vocals alone. Unfortunately they didn't make it through to the finals despite their obvious talent.
Britain
had a boy band. Blue. Better known for their song
All Rise
in the early 2000's. They came complete with the requisite boy band dancing. I am however unsure what was more disturbing, the actual boy band dancing or the dancing boy band images on the screens behind them.
Germany welcomed back Lena Meyer-Landrut to defend the Eurovision title that she won last year with the song
Satellite
with a new song
Taken By A Stranger
. I first heard this on YouTube a few weeks ago and wasn't sure what I thought but watching it from the live performance I found it quite catchy and enjoyable. Not quite enough to win the title for a second year however.
Ukraine
had a pretty amazing song and the sand artistry they had to go along with it made it even more awesome. My only issue with the performance on a whole was the fact that having the sand artistry on the big screen behind the singer kept distracting me.
Overall I felt the performances were of a higher calibre to previous years through the semi-finals, but unfortunately not all those who made it through to the final should have and some that should have missed out like Belgium and
Turkey
.
And for those who are wondering. The winner was
Azerbaijan.
Good on them I say despite the fact that they aren't really a European country and I didn't particularly like the entry. There's always next year!